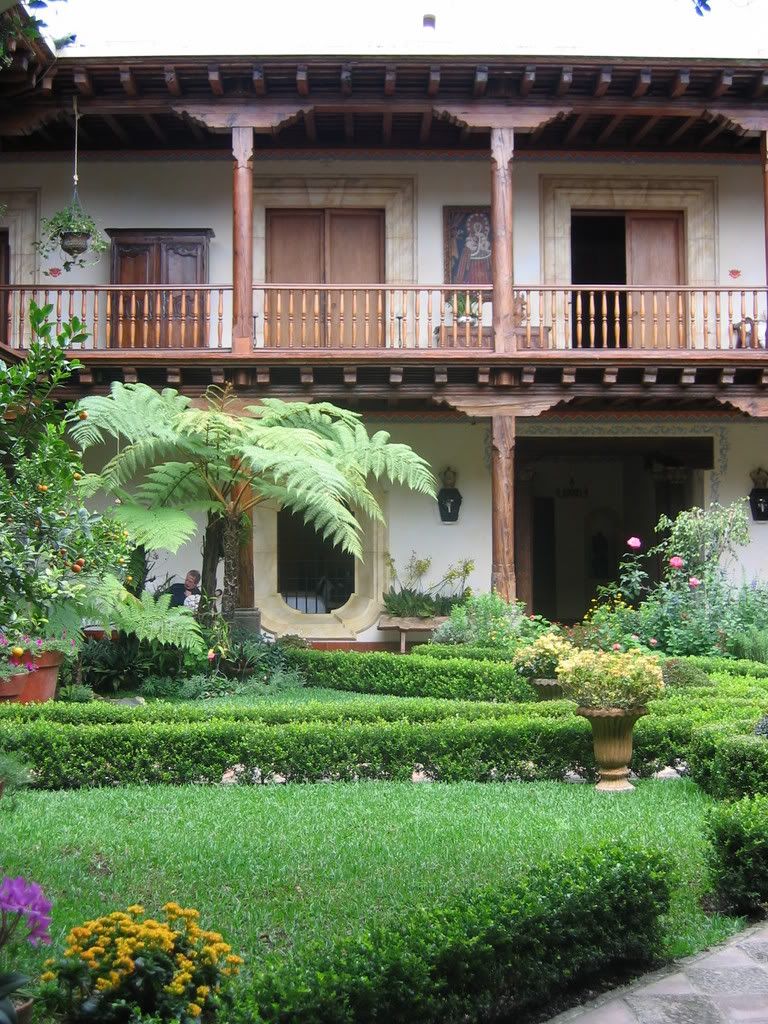 Antigua looked exactly like Arequipa, Peru to us. We had paid an extra 8 quetzales for our luggages, we just got them and started to walk around to find a hotel room. We saw a guy on the corner who offered us a room for 13 USD per night, with private bathroom and cable TV. The room was ok, the hotel was centrally located, so we decided to keep the room. After we dropped our stuff, we went out to explore the city. Antigua is an elegant town, most of the Spanish language schools are located there and probably most of the foreigners living in Guatemala lives in Antigua. There is a Central Park (Parque Central) which constitutes the main square of Antigua and all the other streets end there. The streets of Antigua are cobble stoned and quite narrow. There are lots of language schools, nice colonial buildings converted to luxury hotels or lovely restaurants with beautiful patios. One thing which drew my attention was the fountains. Most fountains had ladies who had water running from their nipples:). After we looked around, we decided to have lunch and found an Italian restaurant to eat.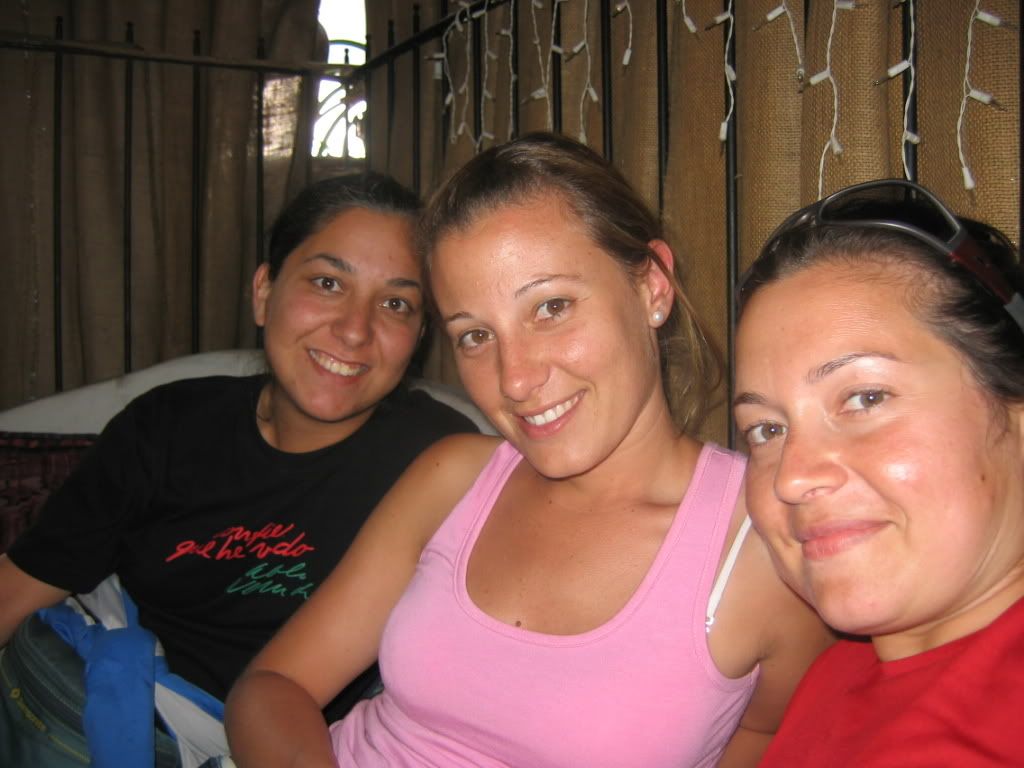 Piril and Pamela had pizza and I had mozzarella salad with basil sauce (albahaca). The service in general is quite slow in Guatemala but this time it was worth the wait. Later, we decided to have coffee and entered one cozy looking cafe. The guy there was an American and he had some other Americans there, so he talked so much with them that he forgot to prepare our coffee. As I grumbled a little, he prepared the coffee, but this time the milk he put to the glass came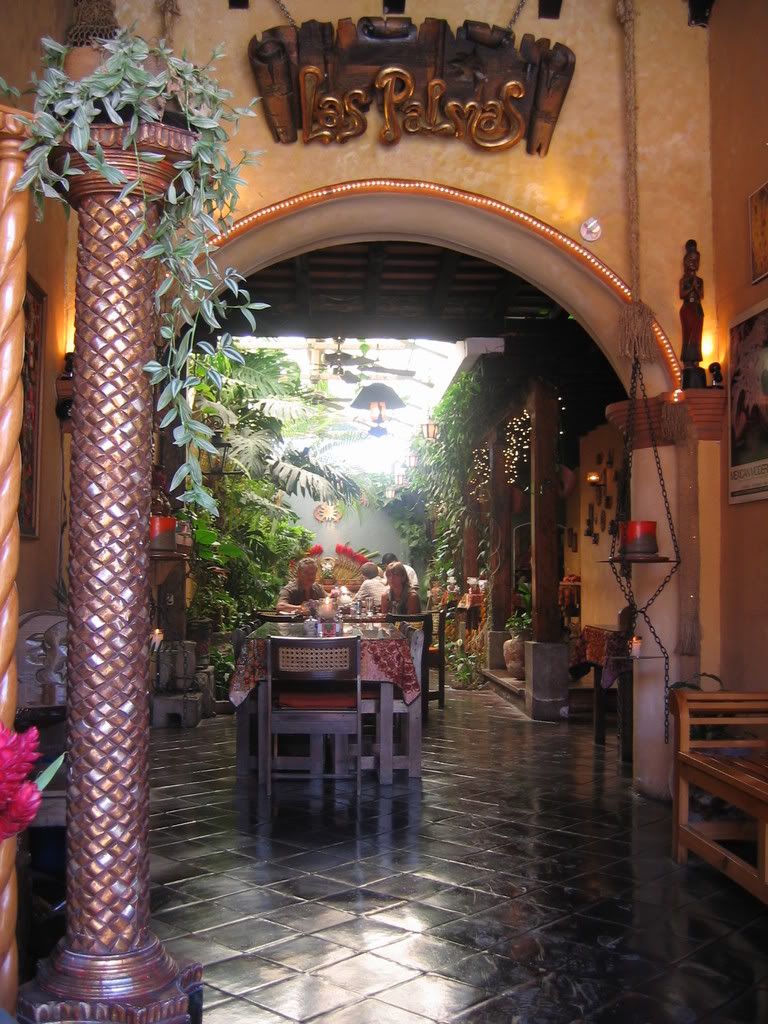 to be an old one, so I got mad! He made the coffee again, French press by the way, as soon as we finished it, we took off and decided to head to the main marketplace where artesanias (handicrafts) are sold!!! I had promised to myself not to buy before Chichi Market, but I bought some stuff! I did not regret though...Later, Pamela left for Guatemala City as she was going to leave for El Salvador the next morning. We came back and took some rest. The next day, we decided to take it easy, look around a little bit, leisurely wandered around and bought a tour for Panajachel and Chichi for 2 days/1 night for 40 USD.
T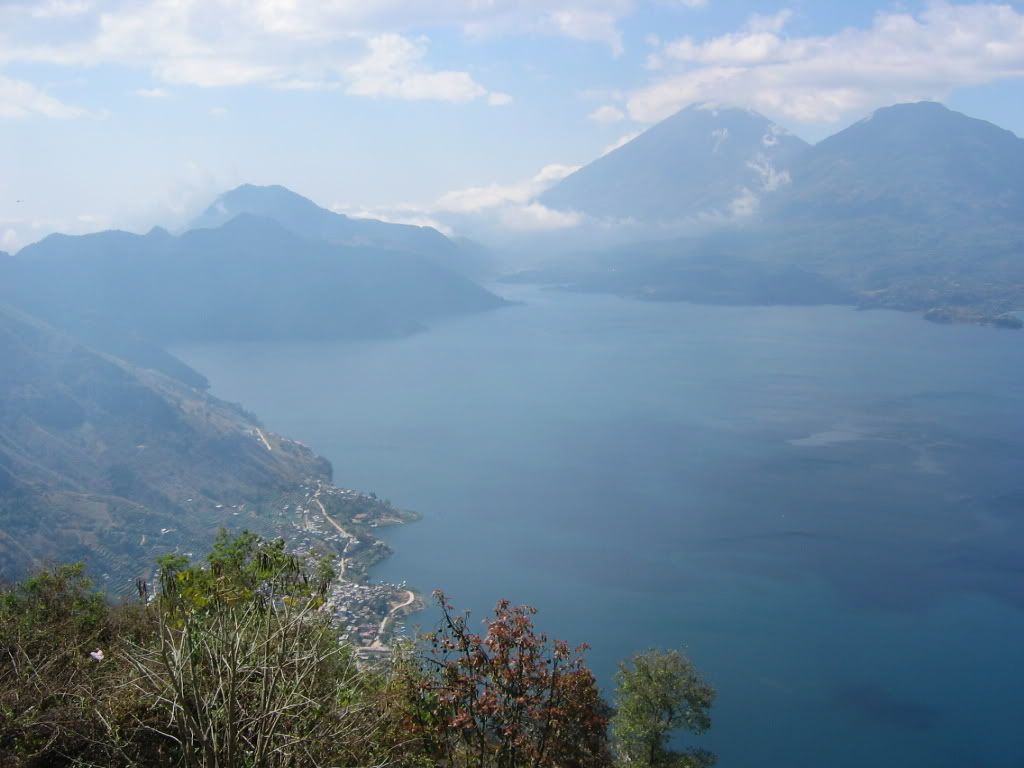 he next day, they came to pick us up from the hotel at 7:00 am. The vehicle was a small one, we all got in and the drive started. Our driver was quite fast and he was not a very careful one when entering the curves, we moved from one end to the other in the minivan constantly. There were many Spanish speakers on the bus, they chatted cheerfully where I listened to my IPOD and tried not to listen to my screaming stomach! After some point on the road, we made a stop to watch the beautiful Lake Atitlan on the highlands of Guatemala. It was a misty look and I really liked it...Finally we arrived in Panajachel and they dropped us to our hotel which was quite clean and had excellent cable TV network. Tired of the motion sickness, I took some sleep before I headed to Lake Atitlan. Piril had some flu, so she stayed at the hotel. In the afternoon, I went out, after a spicy Guatemalteco meal, I headed to one of the boats crossing Lake Atitlan for the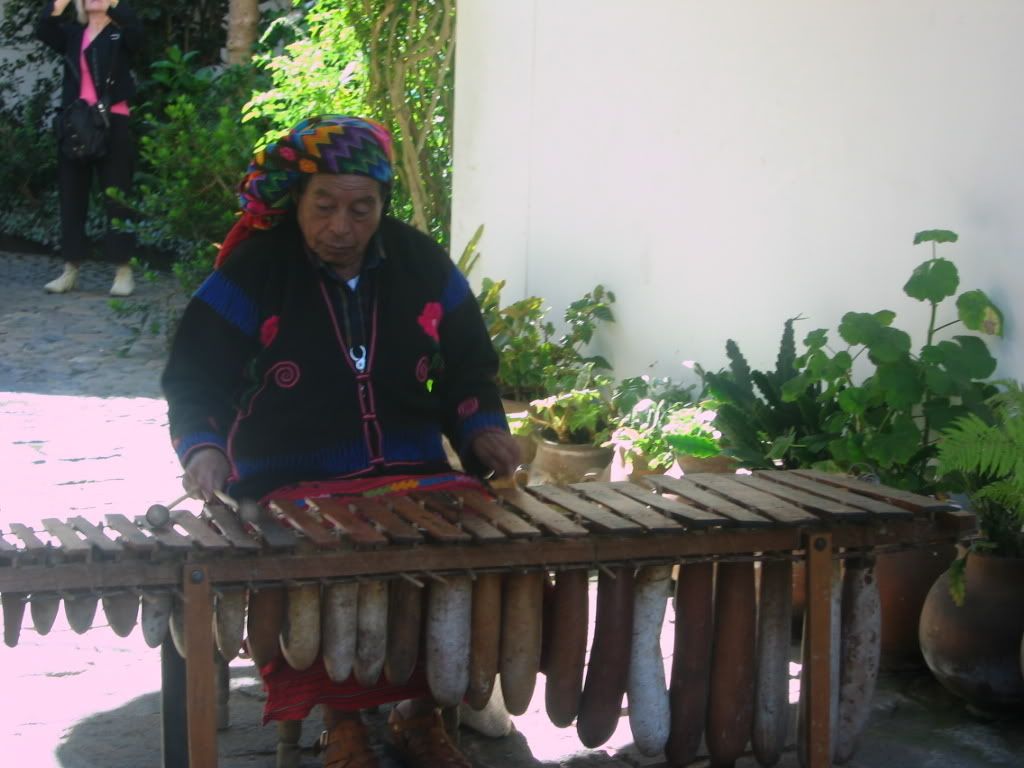 largest village around the lake, Santiago de Atitlan. The village is tiny but I took a tictac, a tiny motorcycle thing to go to the top of the village. As I descended from the top, I hardly could stop myself from looking at the beautiful handicrafts. Finally after hard bargainings, I bought two tablecloths and several other souvenirs...I took the last boat for Panajachel.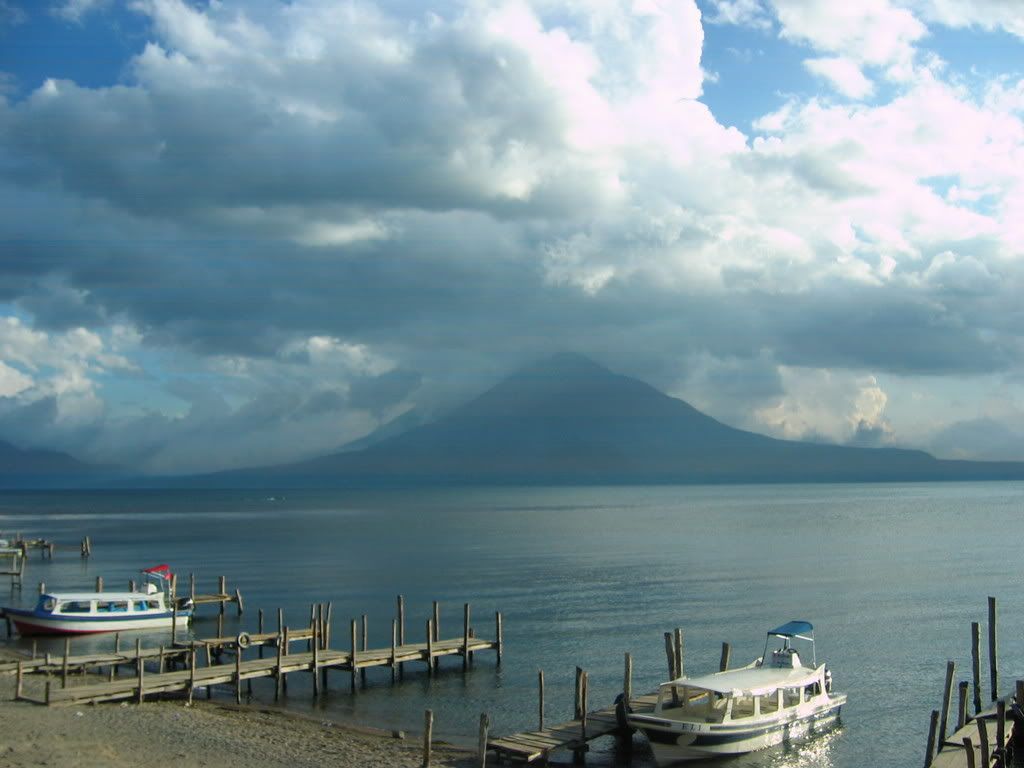 Another interesting is as a tourist, you need to pay more than a local person and it is impossible not to pay it...Anyway, I came back to Panajachel. Panajachel is also quite touristy but at the same time lovely and has its charm. We met with Piril for another Guatemalteco dinner, had something light, had our tequilas and got some breakfast for the next day to Chichi.
The next day we were picked up at 9 am for Chichicastenago (Chichi in short) Market which is set every Thursday and Sunday. It took us nearly 2 hours to reach the market. As soon as we arrived,
when we were looking for a bathroom, we happened to enter a great hotel which was probably the house of some baron or duke at some period of history! The hotel was lovely with nice patios, colorful parrots and flowers, though it lacked a public bathroom! We ended up using the public bathroom of a gas station after waiting some 10 mins and paying 1 Quetzal:). Later we dag into the market for some 3-4 hours as there was nothing else to do! As soon as we ran out of all the money we had in our pockets, we quietly waited until the time was up.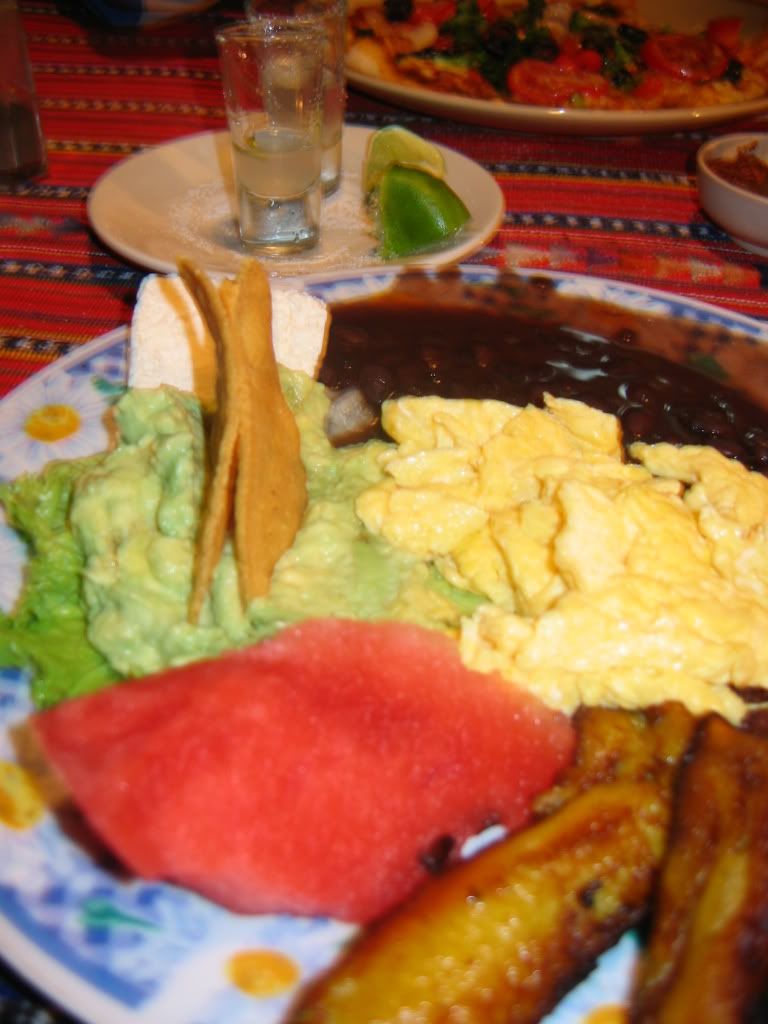 Later we came back to Antigua after another bumpy journey by the very same great (!)driver. I slept some time, we sat on the front next to the driver, I woke up with the dust from the road construction. After that, we survived from probably 3-4 grave accidents, ugh they drive like hell here!!! Anyway, we were back, I did my backpack carefully, we spent our last night and the next morning we headed to Guatemala City...
Next day was interesting because we were going to go to the house of Natalia, whom we met in Flores a couple days ago. We came to Guatemala City, took a taxi to Natalia's apartment and easily found it! Natalia greeted us warmly and cooked a Peruvian dish for us, hmm it was yummy...We chatted hours and hours and later we went out for a cup of coffee but we needed an ATM to get money. We tried about 4-5 cash machines which were either not Cirrus Network or lacked money as it was the end of the month!!! Anyway, finally we had some coffee and cookies on the way back and Piril paid them by credit card.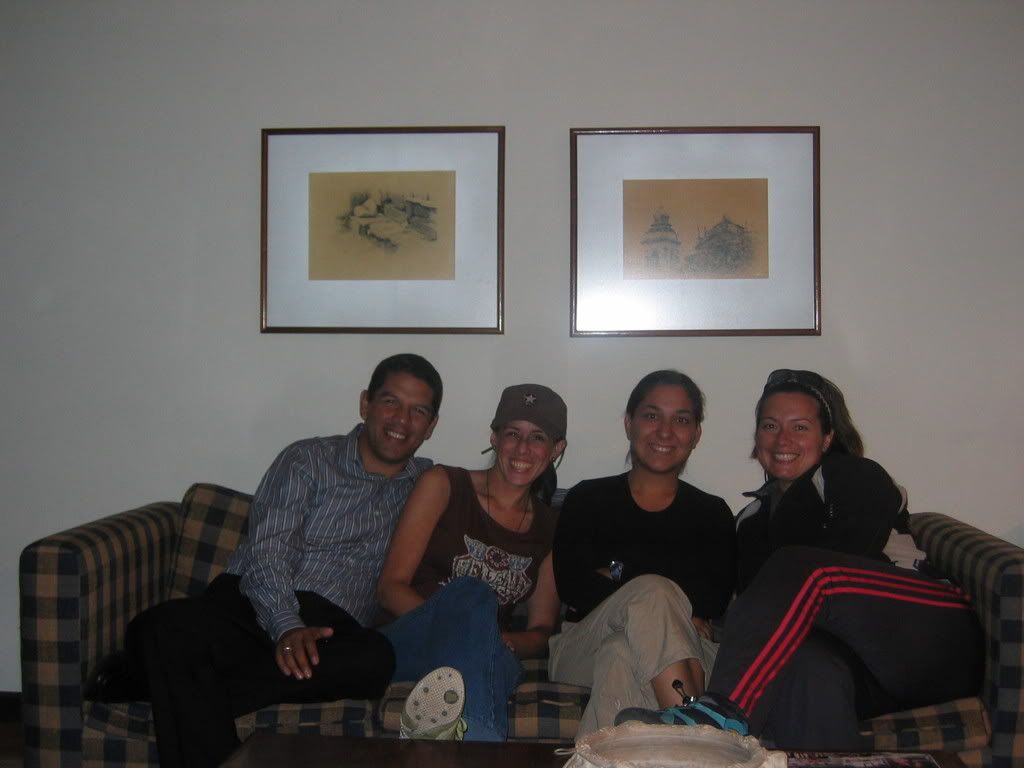 We changed some money for the airport taxi with Natalia. In the evening, Jose Carlos came, we chatted long, we showed them how to belly dance, listened to Peruvian and Turkish Music, drank wine and rom...It was sooo nice to exchange our cultures, be able to share a bottle of wine and all the laughters together:). Natalia is pregnant for 5 weeks, so we'll be waiting for good news about the baby. Jose Carlos wants the baby to be a boy, we all think that it will be a girl, we'll see...
The next morning, after having such a nice sleep in clean, fresh and soft sheets, I headed to the airport. It was hard to believe, but we were left one single day in this part of the world!...We came to the airport, took our TACA Flight to Mexico City. The plane arrived right on time, we came back to our hotel, Lafayette.
After the last preparations, we had a peaceful sleep and the next day, which was the 2nd of March, we headed to Benito Juarez Airport in Mexico City in the morning at 6 o'clock. It was hard to believe that the trip was over...However, we missed Turkey, our beloved ones and our city itself...We took the first plane to Chicago by American Airlines and after a 4 hour wait, we took the other flight for Istanbul by Turkish Airlines, flight 006. The flight was very nice and smooth, I really enjoyed every single moment of it. Finally we arrived back home on the 3rd of March, 2008 at 11:45 am. Our parents were waiting for us!!! It was hard, but the trip was over...
The statistics of the trip is the next chapter...The next and probably the last chapter...